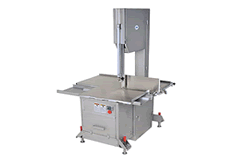 BIRO's Model 55 22" Meat Saw has a 5 hp motor that provides all the power you need to break pork, lamb, veal or beef all day in a high volume production operation.
Product Links

Biro Meat Saws

Heavy duty, stainless steel construction helps the Model 55 hold up under the harshest conditions with minimum maintenance. With the standard front moving carriage and meat gauge plate and 20" H (508 mm) by 21" (533 mm) cutting clearance, you can use the same saw to produce retail cuts or split loins and break quarters, which makes the Model 55 unmatched for versatility.

Superior Biro engineering means you'll have a saw that's built to last. Over the life of the saw you'll get more for your money. As with all Biro products, if you need a particular modification to fit your application let us know.